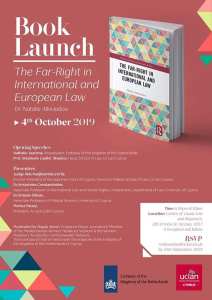 By Angelina Alyabyeva
2nd Year LLB Student, UCLan Cyprus
On the 4th October 2019 I participated at Dr. Natalie Alkiviadou's book launch in Nicosia. Her book is entitled 'The Far-Right in International and European Law.' Here are some details of the evening and the book:
Opening speeches:
Nathalie Jaarsma, Ambassador, Embassy of the Kingdom of the Netherlands
Professor Stéphanie Laulhé Shaelou, Head, School of Law, UCLan Cyprus
Presenters:
Judge Akis Hadjihambis (retired), Former President of the Supreme Court of Cyprus, Honorary Fellow, School of Law, UCLan Cyprus
Dr. Aristoteles Constantinides, Associate Professor of International Law and Human Rights, Chairperson, Department of Law, University of Cyprus
Dr. Antonis Ellinas, Associate Professor of Political Science, University of Cyprus
Monica Panayi, President, Accept LGBT – Cyprus
About the Author:
Natalie Alkiviadou is a lecturer in EU Law and Human Rights. She holds degrees from Warwick University (LLB) Utrecht University (LLM), and a PhD from the Vrije Universiteit Amsterdam
Natalie Alkiviadou's research and teaching expertise rest in the areas of human rights law, international law and European Law.
Through a comparative analysis of Greece and England and Wales, her thesis looked at the legal tools available to challenge far-right political parties, non-party groups and subculture movements. Her current research continues to focus on the legal regulation of the far-right as well as particular aspects of the far-right to include online and offline hate speech, the regulation of internet hate and hate crime. Natalie has taken part in conferences with academics and stakeholders such as the Police and the Ombudsperson as co-organiser and speaker. The themes of the conferences have been hate speech and hate crime, LGBTI rights, the representation of migrants in Cypriot media and the role of human rights education in Cypriot society. As founding member and director of AEQUITAS, an NGO working on human rights education, she has been part of a number of European, international and national projects which focus on themes ranging from human rights education for young people to capacity building of competent authorities on issues such as combatting hate speech and hate crime.
About the Book:
Since the Second World War, the international community has sought to prevent the repetition of destructive far-right forces by establishing institutions such as the United Nations and by adopting documents such as the Universal Declaration of Human Rights. Jurisprudence and conventions directly prohibit far-right speech and expression. Nevertheless, recently, violent far-right entities, such as Golden Dawn of Greece, have received unprecedented electoral support, xenophobic parties have done spectacularly well in elections; and countries such as Hungary and Poland are being led by right-wing populists who are bringing constitutional upheaval and violating basic elements of doctrines such as the rule of law.
In light of this current reality, this book critically assesses the international and European tools available for States to regulate the far-right. It conducts the analysis through a militant democracy lens. This doctrine has been considered in several arenas as a concept more generally; in the sphere of the European Convention on Human Rights; in relation to particular freedoms, such as that of association; and as a tool for challenging the far-right movement through the spectrum of political science. However, this doctrine has not yet been applied within a legal assessment of challenging the far-right as a single entity. After analysing the aims, objectives, scope and possibility of shortcomings in international and European law, the book looks at what state obligations arise from these laws. It then assesses how freedom of opinion and expression, freedom of association and freedom of assembly are provided for in international and European law and explores what limitation grounds exist which are directly relevant to the regulation of the far-right
Key Issue:
The issue of the far-right is a pressing one on the agenda of politicians, academics, civil society and other groups in Europe and beyond. As such, this book will appeal to those with an interest in International, European or Human rights Law and political science.